The ever-changing trends in mobile technology have caused a shift in the buyer's choice of mobile phones to the ones which support multiple SIM cards in a single handset. Most of us might prefer to keep different connections for different fields of life, thus these phones will make a good choice for them, removing the necessity of owning different mobile phones.
For information, the dual-SIM phones are devices which support the presence of two simultaneous SIM cards in them, and switching between them whenever required. They can be standby dual-SIM phones where only one connection is active at a time and the other on standby, or they may be the active dual-SIM phones where both the SIM cards are active at the same time.
With the availability of so many different options of buying a dual-SIM mobile phone, it can be thought as a necessity to provide with a buyer's guide so that he can not only be able to choose the perfect handset within budget, but also quench his thirst of different expected features from the handset.
1. Zen 777 Blackberry clones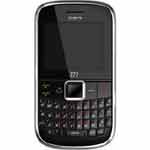 This is looks exactly like the Blackberry mobile phones except that there is a Zen etched below its screen. Being launched by Intex, it has a 2.2 inch display with QWERTY keypad and 1.3 Megapixel camera. The memory slot is expandable up to 4GB via a MicroSD card. It supports the GPRS facility and is equipped with all other basic features like Bluetooth, FM radio, video recording etc.
My Verdict: Though the reliability and durability is less, it provides great ease of use. The best thing about this phone is its price. It is available for Rs.3300/- only, which is pretty less considering the features and the looks provided.

2. Micromax Q7
Commonly known as the Candy Bar, this is basically a Java enabled GSM phone which comes with a full QWERTY keypad and a trackball to navigate. It is among the few phones in the range of dual-SIM phones supporting EDGE/GPRS facility for faster internet experience, keeping an eye on the budget. It comes integrated with applications such as Facebook, Opera mini, Nimbuzz etc. and supports a two megapixel camera, QVGA display, FM radio, music player, video recording and 4GB expandable memory via MicroSD card.
My Verdict: This phone is priced at Rs. 5069/- which is optimal and is a great buy. Normal connectivity and data transfer capability in the Micromax Q7 is enhanced with added Bluetooth A2DP support. Thus, it is suitable for internet lovers.
3. Micromax X235
This is a dual-SIM Universal Remote Control Handset, wherein the controlling of TVs, ACs, or DVD players is possible with it. It sends infrared transceivers to the electronic devices, thus enabling the user to command over it. This set is equipped with CMOS camera, music player, video player and FM Radio. This handset offers descent connectivity options like GPRS, MMS and WAP.
My Verdict: Priced at Rs. 4500/-, this handset makes a great buy if one is very clear about the necessity of the Universal Remote Control feature.
4. Samsung Duos 259
The key support of this handset which makes it worth mentioning are that it supports GSM+CDMA connections, though this is a standby dual-SIM handset. Other noteworthy features may be 1.3 mega-pixel camera, FM radio with recording, up to 8 GB expandable memory, MP3 player, GPRS and Bluetooth.
My Verdict: With a 2.2-inch screen, 262K colour TFT display, this phone is priced at Rs. 6820/- and is suitable for those who are looking for reliability and durability.
5. Samsung B-5722
This is a GSM+GSM dual-SIM active handset, thus enabling two simultaneous active connections. This features a 2.8-inch full touchscreen, SNS quick link, and instant messenger. Equipped with mobile tracker and 8GB external memory, GPRS, EDGE, QVGA display, 3.2 mega-pixel camera, with support for flash, music player and FM radio, it forms a perfect entertainment box.
My Verdict: For those who are looking for a touchscreen dual-SIM handset, this forms a nice option. Priced at Rs. 10,650/-, this forms a perfect mix of style and technology.
You Might Also Like :